Online Arc Flash
Safety Training
Featuring
Doug Baucom

of Verifiable Results
Watch now:
online arc flash safety training overiview
Here is an overview of Arc Flash Safety Training taught by Doug Baucom, P.E.

Doug's clear and concise presentation of arc flash safety essentials is geared to prepare all electrical workers to stay safe on the job.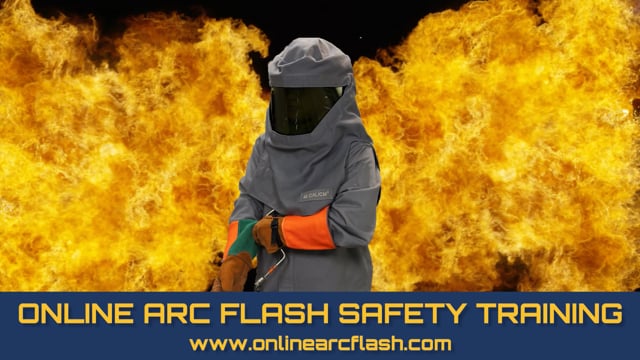 What is

an arc flash?
This dangerous phenomenon happens when an electric current travels through the air between conductors, or even ground. It occurs violently, in a fraction of a second. The speed of the event is so fast that there is no way for a victim to get out of the way and protect themselves. It happens frequently when the equipment being worked on is energized.
What are the

effects

of Arc flash? The effects of an arc flash can be devastating. The flash can produce temperatures upwards of 35,000 degrees Fahrenheit, burning everything in its path.

With 2,000 pounds of pressure per square foot, it will violently knock anyone on the ground.
The accompanying light, soundwaves, and fumes can be just as damaging. Arc flash sound blasts are as loud as a gun at up to 140 dB. The flames and heat coming from the arc flash can easily ignite a building fire, causing further damage and loss of life. Anything metal propelled by the blast is molten from the heat, and can penetrate clothing, skin, and everything else in its path.
The economic cost of arc flash is daunting.
Treatment for a severely burned worker costs $1.5 million dollars on average. When you consider the added cost of equipment and structural damage, litigation and lost business, the cost can top $30 million dollars.
Of course, the human toll is even worse.
Each time an electrical worker dies, their loved ones face an unimaginable loss.
Their dependents face not only the tragedy of losing a husband, wife, dad or mom, but the financial uncertainty that comes along with the loss of family income.
Injuries are often permanently debilitating,
leaving someone with no way to work and support their family for the rest of their life.
How does

arc flash usually

occur?
Arc flash can happen in many different circumstances when handling, maintaining or working near high-voltage electrical equipment and installations. When the conditions are ripe for electricity to leave its intended path, it can unpredictably happen at any time. There are a few common conditions that make an arc flash event even more likely such as:
How

can

arc flash

be prevented?
It's essential for all electricians to be certified and trained on the dangers of arc flash, and how to avoid it. Proper protective work technique is achievable, but it takes time and preparation. If checklist items aren't followed, and corners are cut, accidents can and will happen.
Proper arc flash training

is the most effective way to make sure that proper procedures are followed each and every time electrical work is performed. Training needs to contain all the important details, yet be easy enough to follow, so the information will be understandable.
Clear and concise training
PRODUCED BY​
OSA DIGITEAM​
FEATURING FROM PRODUCED BY​
DOUG BAUCOM​


VERIFIABLE RESULTS​
OSA DIGITEAM​
What You Will

Learn This clear, concise and informative course covers every single one of the essentials needed to prevent arc flash, injury and damage.

over

20

topics covered
James R. – Control Systems Engineer
Doug (Baucom) is an outstanding instructor. So his training courses are quite effective. I found the online version of it was good, specifically because anything he covers in class, he covers online. Doug is just simply – he's a very experienced engineer. He always keeps up with the rules and regulations and he's always on top of it.
Robert N. – Maintenance Manager
I think he's (Doug Baucom) very good at what he does. He keeps you engaged. He gives you good information. Everybody that took it was very pleased taking the class both times we took it. The people who took the online class had a similar experience.
About training

video producer OSA DigiTeam
Award-winning creative agency known for high quality video and animation.
Serving clients in the US and internationally.
Experienced at scripting and developing training content including
Also develop, populate and manage LMS's (Learning Management Systems).

Experienced with training projects that include multiple technical training modules, and with translation of training media into many languages.
Start

your training program

today Whether it's for yourself, 3 employees or a global team of 900, protect
your electrical workers with

the best arc flash training

available today.